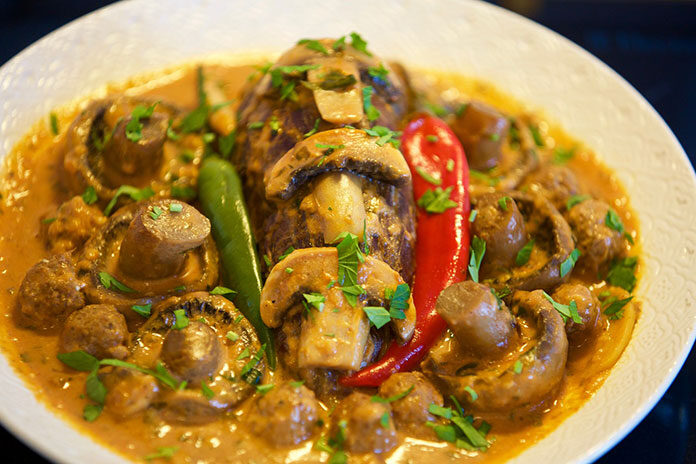 Next time you are looking for a quick and simple lunch idea that both you and your kids will love, try making a tostada. They'll love the flavor of this Mushroom and White Bean Tostada, but you can top your tortillas with whatever your family loves!
Serves 6
Prep Time: 10 minutes
Cook Time: 15 minutes
1 Tablespoon olive oil
1 Tablespoon butter
8 ounces sliced mushrooms, cleaned and patted dry
2 cloves garlic, minced
1 pinch kosher salt
1 15.9-ounce can Great Northern beans,
drained and rinsed
¼ cup vegetable oil
6 flour tortillas, fajita size
1 cup romaine lettuce, chopped
1 tomato, seeded and diced
¼ cup shredded Swiss cheese
Heat a saucepan over medium heat. Add olive oil, butter and mushrooms. Sauté for 5-10 minutes or until mushrooms release moisture and shrink. Continue until most of the liquid has evaporated.
Add minced garlic, kosher salt and Great Northern beans. Stir and cook until mixture is heated through.
For tostada shells: On a separate pan, heat vegetable oil over medium heat in a large skillet. Using tongs, place a flour tortilla in the oil. Fry for 30 seconds or until lightly browned. Use tongsto flip the tortilla, and cook for 15-30 seconds until brown. If bubbles form, poke with your tongs to burst them. Using tongs, carefully remove the tortilla from the oil and place on a paper towel to drain.
Repeat with remaining tortillas, turning down the heat if needed to avoid burning. Let shells cool.
To assemble, place one shell on a plate. Top with a handful of lettuce, 1 spoonful of the mushroom and bean mixture and 1 spoonful of diced tomatoes. Sprinkle with Swiss cheese. Serve hot.