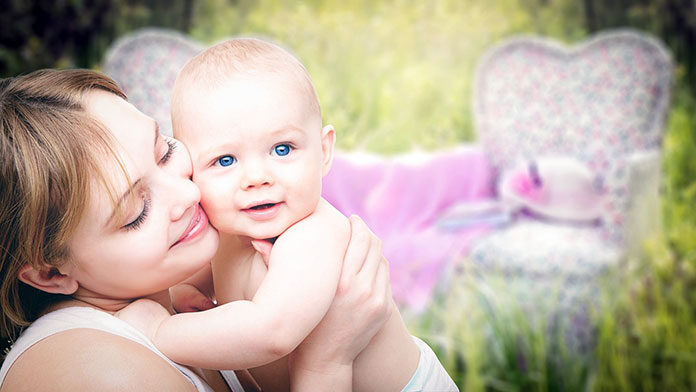 Spring has sprung, and with it comes these tasty treats. Today, it's a too-cute breakfast. So dig your bunny paws into what's in store!
Bunny Pancakes
Recipe and photography by Jenni Price, jennipriceillustration.blogspot.com
Serves 6
Prep Time: 15 minutes
Cook Time: 6 minutes per pancake
What You'll Need:
Large mixing bowl
Electric mixer
Two condiment squirt bottles
Paper towels
Spatula
Spoon
Electric griddle
2 cups plus 3 Tablespoons Krusteaz Buttermilk Pancake Mix
1 Tablespoon granulated sugar
1 ½ cups water
½ teaspoon vanilla extract
Red food coloring
Pam Cooking Spray
12 chocolate chips
6 red M&M'S®
In a large mixing bowl, stir the pancake mix and sugar together with a spoon. Add the water and vanilla extract and stir. Beat the batter with an electric mixer until well blended without many lumps. You may need to add a little more pancake mix (1 tablespoon at a time) depending on the consistency. You want the batter thick enough to "draw with but not so thick that it won't squeeze out of the squirt bottle.
Pour the batter slowly into one of the condiment squirt bottles until it's about 2/3 full. This will be your white color.
Color the remaining batter pink using red food coloring (add 1-2 drops at a time).
Pour the pink batter slowly into the other squirt bottle. Clean up any drips.
Spray your griddle with cooking spray but do NOT turn it on yet.
To Create a Bunny:
Draw the outline of a circle with the pink batter.
Draw two arched lines for the bunny "ears with the pink batter.
Using the white batter, draw the inside lines of the "ears and the round "mouth.
Turn your griddle to the lowest setting (between 200-225°F) and let the outlines cook until puffed up. The outlines will keep remaining batter in.
Except for space inside the white outlines, fill the "bunny with the pink batter within the pink lines.
Use white batter to fill the 3 white outlines. Wait to flip the "bunny until the batter is bubbly and loses most of its shine.
Place two chocolate chip "eyes and 1 red M&M'S® for the "nose. Or have fun and try using raisins or other candies!
These pancakes make the ultimate spring breakfast and are perfect for a whimsical tea party.